Payment methods: Difference between revisions
---
No edit summary

Line 2:
Line 2:





==Credit Cards==

==Credit Cards==

We accept Visa and Mastercard in most countries.

We accept Visa and Mastercard in most countries.






Due to the risk of fraud, we do limit the use of credit cards to users from specific countries.  If our validation systems detect that you are attempting to make a payment from one of the blacklisted countries, you will not get the option to pay by credit card.  If this is happening to you, you might still be able to use Paypal, or you can open a ticket with support team to discuss alternative payment methods.

Due to the risk of fraud, we do limit the use of credit cards to users from specific countries.  If our validation systems detect that you are attempting to make a payment from one of the blacklisted countries, you will not get the option to pay by credit card.  If this is happening to you, you might still be able to use Paypal, or you can open a ticket with support team to discuss alternative payment methods.






====Adding a Credit Card:====

===Adding a Credit Card===

 

1. Login to your account<br>

2. Click on "Transaction History"<br>

3. Click on "Edit Credit Cards"<br>

4. Click the "Add New Credit Card" icon at the top of the page










====Updating Credit Card Information:====

====Updating Credit Card Information:====






1. Login to your account<br>

to . the icon the card

2. Click on "Transaction History"<br>

3. Click on "Edit Credit Cards"<br>

4. Click the change icon beside the card you want to edit/update










====Deleting a Credit Card:====

1. Login to your account<br>

2. Click on "Transaction History"<br>

3. Click on "Edit Credit Cards"<br>

4. Click the delete icon beside the card you want to edit/update

==Paypal==

We fully accept payments through Paypal.  Please note that if your Paypal information (especially your e-mail address!) does not match your Bravenet account information, there will be delays in activating your services.  If you are forced by circumstance to use conflicting information, please let our support team know about it beforehand so that we can get you up and running as quickly as possible.

We fully accept payments through Paypal.  Please note that if your Paypal information (especially your e-mail address!) does not match your Bravenet account information, there will be delays in activating your services.  If you are forced by circumstance to use conflicting information, please let our support team know about it beforehand so that we can get you up and running as quickly as possible.






==Other Methods==

==Other Methods==

We may be able to accept additional methods of payment for some services, but you will have to contact our support team to set up the details.  Create a free account for now and open a support ticket to discuss the options available to you.

We may be able to accept additional methods of payment for some services, but you will have to contact our support team to set up the details.  Create a free account for now and open a support ticket to discuss the options available to you.






==Contacting Us==

==Contacting Us==

* Create a support ticket through http://support.bravenet.com/index.php

* Create a support ticket through http://support.bravenet.com/index.php

* If you are [[Upgrading your hosting service |upgrading]]/[[renewing your hosting service | renewing]] your account, or are [[registering a domain]], there's a link to our [[Live Help]] in the top right-hand corner of the screen when you are viewing the payment screen.  Note that [[Live Help]] is not always available.

* If you are [[Upgrading your hosting service |upgrading]]/[[renewing your hosting service | renewing]] your account, or are [[registering a domain]], there's a link to our [[Live Help]] in the top right-hand corner of the screen when you are viewing the payment screen.  Note that [[Live Help]] is not always available.






[[Category:Account]]

[[Category:Account]]
---
Revision as of 13:55, 7 October 2014
We accept several payment methods for services purchased from Bravenet.
Credit Cards
We accept Visa and Mastercard in most countries.
Due to the risk of fraud, we do limit the use of credit cards to users from specific countries. If our validation systems detect that you are attempting to make a payment from one of the blacklisted countries, you will not get the option to pay by credit card. If this is happening to you, you might still be able to use Paypal, or you can open a ticket with support team to discuss alternative payment methods.
Adding a Credit Card
1) Login to your Bravenet user account.

2) Click on the Accounts button from the top of the page.


3) Click on Billing Transactions from the dropdown menu.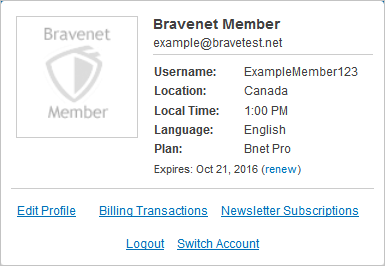 4) Click on the Edit Credit Cards button from the resultant page.


5) Click on the Add new Credit Card button.


6) Fill out all of the information within the popup accurately as it is required by the billing system.

Updating Credit Card Information:
Same as adding a credit card, but instead of step #5, click the edit icon to the right of a credit card. You can also delete a credit card by clicking the red icon under delete to the right of the credit card listing.
Paypal
We fully accept payments through Paypal. Please note that if your Paypal information (especially your e-mail address!) does not match your Bravenet account information, there will be delays in activating your services. If you are forced by circumstance to use conflicting information, please let our support team know about it beforehand so that we can get you up and running as quickly as possible.
Other Methods
We may be able to accept additional methods of payment for some services, but you will have to contact our support team to set up the details. Create a free account for now and open a support ticket to discuss the options available to you.
Contacting Us