Difference between revisions of "Configuring your iPhone with e-mail"
---
 

(5 intermediate revisions by 2 users not shown)
Line 1:
Line 1:
−

This page assumes you have already [[Creating a new e-mail account | created an e-mail address]] and have not yet configured your iPhone with any e-mail addresses (if you currently have other e-mail addresses associated with your phone, please first [[#note | read the note]] at the bottom of this page).

+

This youalready [[Creating a new e-mail account | created ]] and have your e-mail ]].

 
 
 
+
 
 
−

1. Tap the "Mail" icon on your phone. You will see the below screen, at which point you will want to tap "Other".

+

1the on your the below

 
 
 
+
 
 
−

[[Image:Iphone1.jpg]]

+

.

 
 
 
+
 
 
−

2. Tap "Add Mail Account" at the top of the next screen under the "Mail" heading, then fill in your details and tap "Save" when ready. The e-mail address and password will need to be exactly as you entered them in your Bravenet account.

+

Add Accountthe of the , and .

 
 
 
+
 
 
−

[[Image:Iphone2.jpg]]

+

.

 
 
 
+
 
 
−

If you think you made a mistake here but saved the details, don't worry - you can change them in the next step.

+

you the , '.  

 
 
 
+
 
 
−

3. Because Bravenet offers POP3 e-mail addresses, make sure you tap POP at the top of the next screen. All that is required now is to fill in the incoming (POP3) and outgoing (SMTP) mail server information to complete configuration!

+

the of the .the

 
 
 
+
 
 
−

These server details are specific to your domain. The below screenshot shows how this information should be entered, where "yourdomain.com" is replaced with the registered domain associated with this e-mail address.

+

.

 
 
 
+
 
 
−

[[Image:Iphone3.jpg]]

+

[[Image:.]]

 
 
−

 
−

The Incoming mail server username will be your full e-mail address. When this information has been entered, tap "Save" again to complete configuration! Your phone may take a moment to verify this information and make an initial connection to the mail servers. If this is a brand new e-mail address, please allow some extra time for the connection to be made.

 
−

 
−

4. You can now access your inbox by tapping the "Mail" icon. You should immediately receive an automatic welcome message from us with some details you can use if you need assistance, and to verify that your inbox is properly receiving mail.

 
−

 
−

 
−

[[Image:Iphone4.jpg]]

 
−

 
−

 
−

Completing these quick steps will allow you to take any e-mail address with a mailbox created within your Bravenet account anywhere you take your iPhone!

 
−

 
−

<div id="note">

 
−

'''Note:''' If you have an existing e-mail address configured with your phone, simply tap "Settings" then "Mail, Contacts, Calendars" and finally "Add Account...". You can now start from Step 1 of this article.

 
−

</div>

 
 

[[Category:E-Mail]]

 

[[Category:E-Mail]]

−

[[Category:Account]]

 
---
Latest revision as of 15:11, 28 November 2014
This guide will assume you've already created email accounts from within the Email Accounts tab of your Bravenet user account, and have read about using your Bravenet e-mail account, already.
Setup your Bravenet Email on iPhone
1) The first step is to open the Settings app on your iPhone, and then scroll down to the Mail, Contacts, Calendars button and press that, as shown below: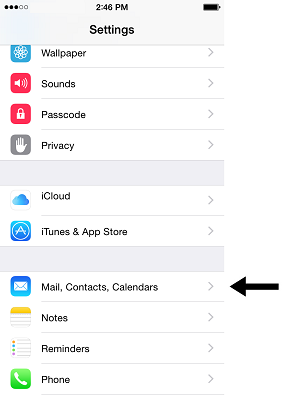 2) Next, click the Add Account button as below to begin configuring your new email account. Note that the Mail, Contacts, Calendars settings is where you would configure how often your iPhone downloads new emails, as dictated by the Fetch New Data option.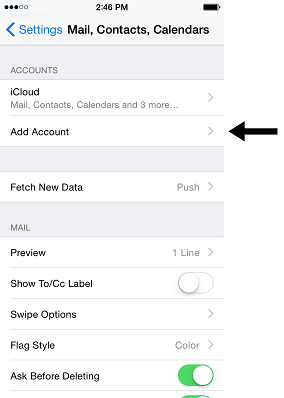 3) From the Add Account screen, select Other as the type of email account you are adding. Bravenet emails use the POP3/IMAP mail retrieval protocols, and are not Microsoft Exchange accounts.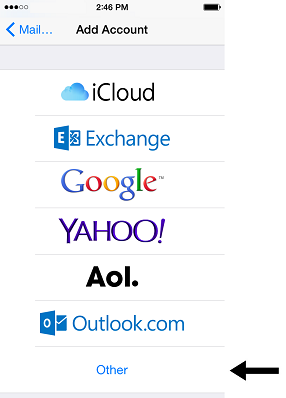 4) We are only adding a mail account, so press the Add Mail Account button next.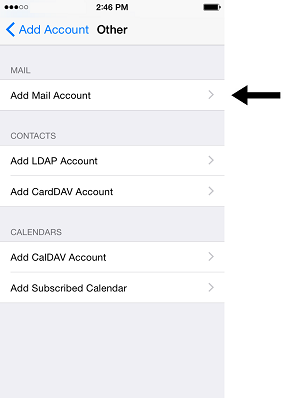 5) Now you will be putting in all of the information the email client requires. First, select from the top whether to use the IMAP or POP protocol; we always advise using IMAP on mobile devices, and your email will not operate properly if configured with POP on multiple devices.
Next, create the display name and short description of the account by filling in the Name and Description fields respectively.
You will have to set the Host Name of both the inbound and outbound mailserver to "mail.bravehost.com", minus the quotations.
Finally, ensure that both mailservers are using the full email address as the username, and that you have put the correct password in for both servers. It should appear quite similar to the below image.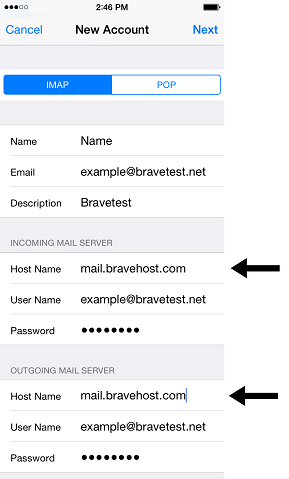 6) The email account is now created! You will see it listed in the Mail, Contacts, Calendars section of the Settings app, and may change the emails configuration settings at any point from the same location!