---
Please note: Bravenet no longer supports the Java SFTP Applet. We recommend looking into an alternative SFTP application such as FileZilla for updating your website(s) in the future.
The SFTP Applet is a Java based application used to transfer files via FTP to or from your account with convenience. We use JSCAPE's wonderful Secure FTP Java Applet. You can find documentation relating to the applet here.
Instructions
The SFTP application requires the Java Runtime Environment (JRE). If you are not able to view the Java applet that appears on this page, this may be because you are not using the newest and most compatible version of the JRE. Please reboot your machine after the download. You must click the "Yes" button when the security certificate window pops up.
You can download the newest Java files at: http://java.sun.com/getjava/
For this to take effect, in Internet Explorer you may have to turn off the Microsoft Java software. To do this, click on "Tools" at the top of the screen, then on "Internet Options" at the bottom of the drop down menu. After this select the "Advanced" tab from the top and scroll down to where it says "Microsoft VM." You will want to uncheck the boxes in this category and make sure that the box in the "Java (Sun)" category is selected.
Using Mac OSX
Due to Apple's Gatekeeper security, the applet may not be trusted by Mac OSX installations unless manually allowed.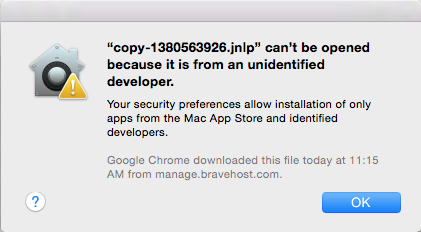 If you open the applet file and are faced with a warning that the file cannot be opened because it is from an unidentified developer, click OK.

Then open Mac System Preferences, and click to Security & Privacy.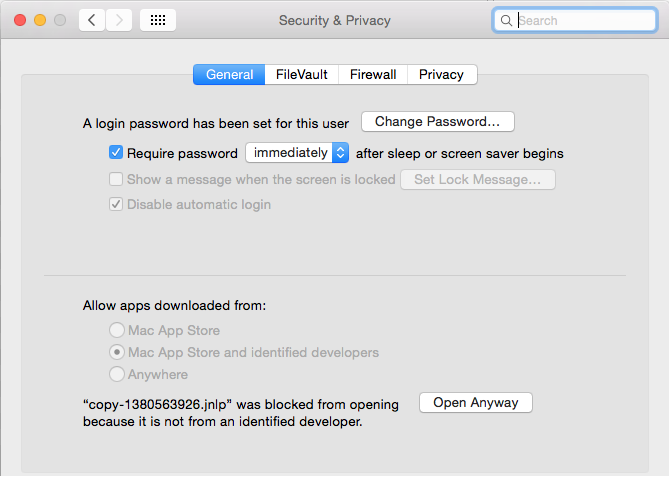 On the General tab, at the bottom, click Open Anyway by the applet's .jnlp file.
How to Get There
SFTP tab -> Launch under the SFTP Applet heading beside the SFTP account you would like to access.