---
You can find an instructional video we've created about Setting up Bravenet Email on Outlook 2007 at this link. Read below for the step-by-step instructions with examples, or refer to the video for a walkthrough of the procedure.
Note - this is for Microsoft Outlook, as it ships with Microsoft Office (it has a yellow icon). This does not include Outlook Express (blue and white icon), which is installed by default on Windows XP - see the Outlook Express for instructions.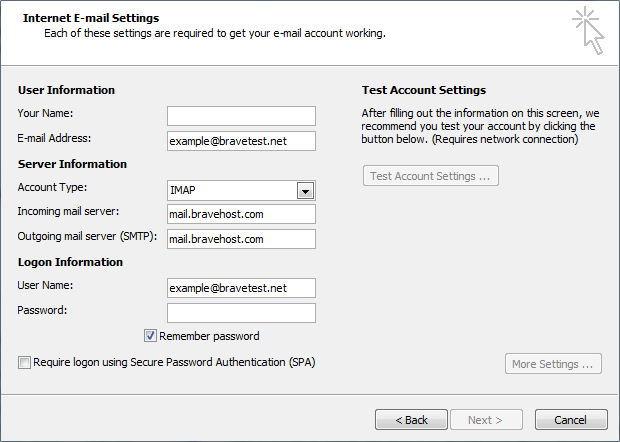 Start Microsoft Outlook 2007.

Fill out the following fields:


Your Name - enter your name here
E-Mail Address - enter the Bravenet email address you are adding here
Account Type - IMAP (or POP3), but we always suggest IMAP
Incoming mail server - enter mail.bravehost.com
Outgoing mail server - enter mail.bravehost.com
User Name - enter your Bravenet email address
Password - enter the password for the Bravenet email address

Click the More Settings button.

Change to the Outgoing Server tab, and enable the My outgoing server requires authentication checkbox.

Change to the Advanced tab, and change the Outgoing Server port number from 25 (the default) to 587
Also ensure that Use the following type of encrypted connections is set to TLS. SSL will also work, but uses different port numbers.

Click the OK button to close the advanced settings window, then click Next on the E-Mail Accounts window
Click the Finish button on the next page and your account should now work correctly
Make sure to send a test email to another email address you have access to to verify that everything is set up correctly.